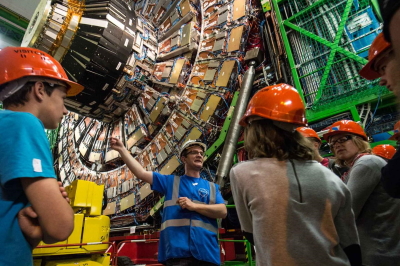 CERN welcomes about 170,000 visitors from all over the world every year, either to visit the permanent exhibitions or to follow a guided tour of the installations.
But it is also possible to book a group virtual visit of one of the LHC experiments: ATLAS or CMS.
All CERN visits are free of charge.
In 2019 CERN welcomed 112 Belgian groups for a total of approximately 1950 visitors on guided tours (which represents 1.3% of the total number of visitors on guided tours).
Geneva is particularly well connected to Belgium by airplane with multiple daily flights, which makes a one-day-visit programme a valid option.
When coming by car from Belgium, estimate around 6-8 hours of driving hours depending on your starting point.
Visit the permanent exhibitions - no booking needed
Guided tours - booking mandatory
Advice for the guided tours:
Book the tour AS EARLY AS POSSIBLE. The CERN Visits Service receives twice as many requests as it can accept.
Favor group tours, as they increase your chances to get a booking.
Do not book travel or hotel until your visit booking has been confirmed by CERN.
Contact person